TABLE OF CONTENTS
Grant Recipient Profiled: Wakeman Smilow-Burroughs Boys and Girls Club
Grant Recipient Profiled: Caroline House
2013 News: United in Hope Scholarship Founded
Please support Team Flanagan in Fairfield 5K & Half Marathon June 22 & 23
LETTER FROM OUR CHAIRPERSON
Dear Friends,
As I take this time to reflect on the work of JPFF, I can't believe that we lost John to cancer four years ago on Dec. 24, 2008. At that time of mourning, it was important to proclaim that something positive should be born out of this great loss. And as we created JPFF, it was healing to know that John's concern for others would not be extinguished -- but instead would continue on through his charitable legacy.
Now four years later, we have certainly achieved that goal. Hundreds of individuals have benefited from our grants and programs. And John's memory is alive each and every day. Every time a child benefits from one of our grants, John has helped. Every time someone donates to our efforts, they pause and think of John. Every time someone dons the green t-shirt to run in our race, John is running with them in spirit.
What a wonderful gift we have given John and ourselves - the ability for him to continue to make a positive impact on the lives that have followed his.
On behalf of our board members and the Flanagan family, thank you for your continued support of our efforts.
Fondly,
Amanda Flanagan

2012 GRANTS RECAPPED
In 2012, thanks to the incredibly generous support of our donors, JPFF was able to award $20,860 to five Connecticut-based charities:
Connecticut Audubon Society Center at Fairfield ($7,860) - to fund the cost for the JPFF Trailblazers Program which enters its fourth year of existence. Trailblazers provides more than 500 Bridgeport public school students the opportunity to visit the center for nature science field trips.

Lawyers for Children America ($2,500) - to help this leading child advocacy organization recruit and train new volunteer attorneys in Fairfield County to help place children in safe permanent homes and secure for them appropriate mental health and education services.

Wakeman Boys & Girls Club Smilow-Burroughs Clubhouse, Bridgeport, CT ($7,500) - to help fund a full-time counselor for teen programming at the Bridgeport Clubhouse. (Click here to read more about this grant.)

High School Scholarship Foundation of Fairfield ($1,000) - to fund an annual scholarship to a college-bound, high-achieving student with an economic need at Fairfield Warde High School.

Caroline House, Bridgeport, CT ($2,000) - to support this organization in its mission to help economically-disadvantaged immigrant women and children to reach the fullness of their potential through education in English language and life skills. (Click here to read more about our grant.)
GRANT RECIPIENT PROFILED: WAKEMAN SMILOW-BURROUGHS BOYS & GIRLS CLUB
In 2012, JPFF's grant helped to fund a full-time position at the new clubhouse in the west end of Bridgeport, CT. JPFF interviewed
Raquon Johnson, Wakeman's Teen Program Director, and asked him to share some insight into his job with us:
Wakeman Teen Program Participants
1. JPFF: Tell us what drew you to the role at Wakeman Smilow-Burroughs and this type of job?
Raquon: My past exposure to the Burroughs Community Center as a member was a major factor in my wanting to give back and share my experiences with today's youth. When the opportunity arouse for me to work at Wakeman Smilow-Burroughs clubhouse I was eager to take it.
2. JPFF: What are the biggest needs that you encounter with the kids at the club?
Raquon: I have found that the biggest need for our teen members is trying to instill in them that they can succeed through hard work, goal setting and commitment.
3. JPFF: What are the greatest benefits you feel the club provides to the kids in the area?
Raquon: Wakeman Smilow-Burroughs Clubhouse is a safe haven for the area youth, providing programs like Diplomas-2-Degrees, which urge youth to think about the next step entering into high school and the many options available after completing high school. Wakeman Smilow-Burroughs Clubhouse also has basketball leagues which have allowed teens from different areas to work together as a team.
4. JPFF: What part of the job gives you the greatest satisfaction?
Raquon: The greatest satisfaction is seeing the kids push themselves to do better through different obstacles.
5. JPFF: What is your most memorable moment so far in the job?
Raquon: The most memorable moment would be when one of the Diplomas 2 Degrees members, Jermaine Paige, rushed into the building and slammed an envelope onto my desk. With much excitement he said "you need to look at this!" When I opened the envelope it was his first college acceptance letter into St. John's University. He was also given a $20,000 scholarship. I was more excited than he was as I read the letter.
6. JPFF: What is one thing you would want others to know about the clubhouse or the role it plays in the community?
Raquon: Our mission at Wakeman Smilow-Burroughs Clubhouse is "To guide and inspire young people, especially those who need us most, to reach their full potential as productive, caring, responsible citizens." We offer a host of programs to help our youth become leaders of the future. An example of that would be our Keystone program. I recently took six teens to participate in the National Keystone Conference in Atlanta. The teens were able to gain the leadership skills necessary in order to give back to their c
ommunity and clubhouse.
GRANT RECIPIENT PROFILED: CAROLINE HOUSE
JPFF board member, John Phelan, reported on our grant to The Caroline House, which runs programs to teach immigrant women English as a Second Language, computer skills, financial management, parenting, health and nutrition, domestic violence concerns and safety issues so they successfully adjust to life in a new culture and become confident and contributing members of their families and communities. The students' children are simultaneously learning at the center's onsite preschool while their mothers are in class.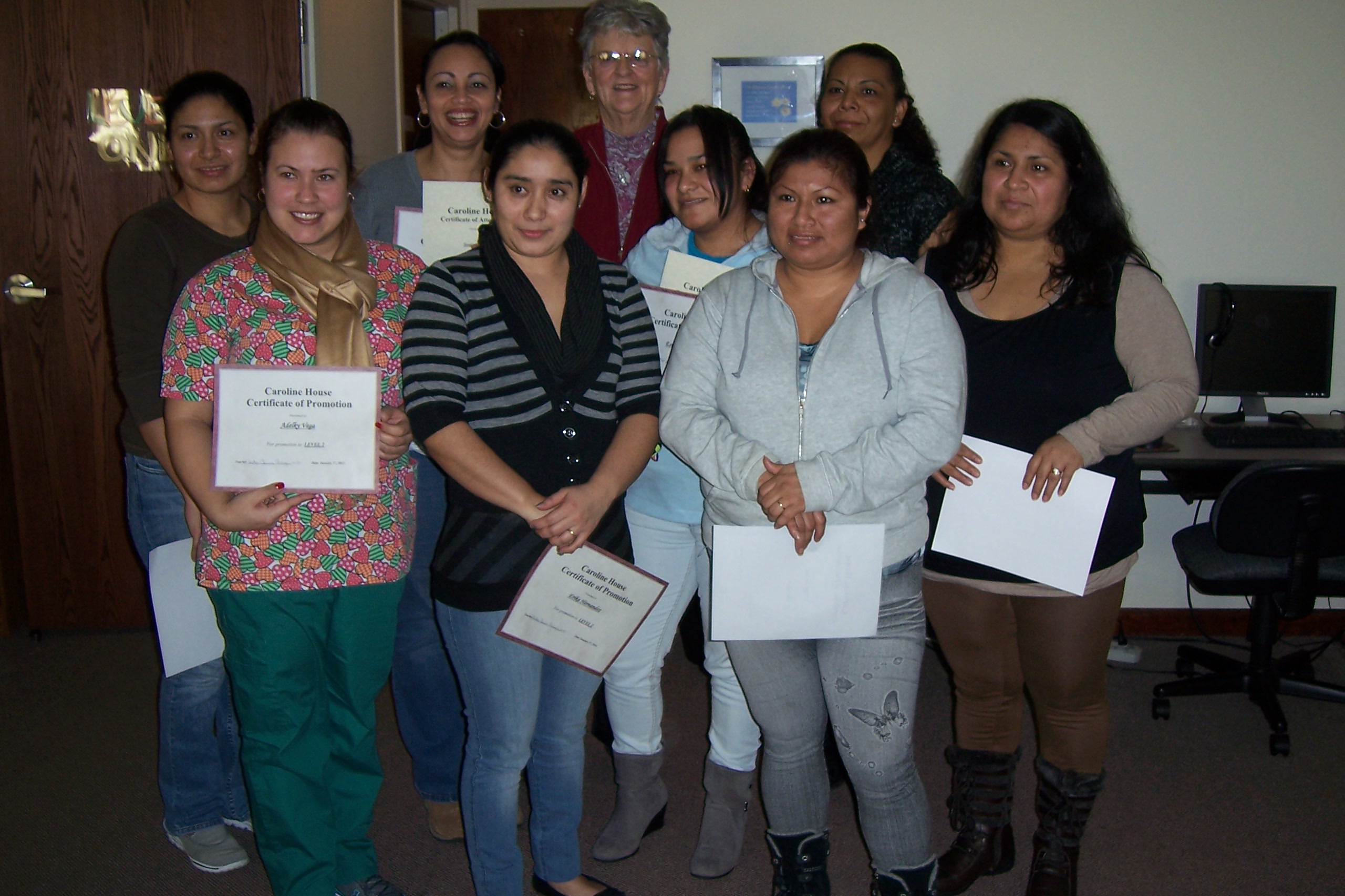 Caroline House Graduating Class
The neighborhood is rough and has seen its share of trouble. Across the street from Caroline House was an abandoned building that became a crack house. When the city tore the building down within the past two years, Caroline House thought they had reason to celebrate. Then the vacant lot quickly became a dumping ground for many things undesirable -- hypodermic needles causing the greatest concern.
The city and volunteers cleared all the debris. The city even put up a gate to prevent further dumping. Shortly after the gate was put up, not to be deterred, someone dumped more debris right in front of the gate and into the street.
This was all very disappointing because the city had given permission to the Caroline House to use the lot for parking. The Sisters explained this was a big break because Caroline House has very limited on-street parking and many of the women and children were being forced to park several blocks away. On occasion some would not come to the home if they had to park too far away. This was a result of poor weather or perceived danger in walking the streets with young children.
The vacant lot made for messy and challenging parking. In poor weather the lot was muddy and very uneven. Come Springtime the sisters were told the lot would become very over grown from weeds.
Enter the JPFF grant. A landscaper donated time and labor to further clear, landscape and excavate the lot. However, the cost of gravel to cover the lot and further secure the entrance would cost $2,000.00. The JPFF grant was very timely as the Sisters did not have the funds to pull off this very vital improvement to their facility.
Now providing a parking lot may seem a strange grant to some. But this story offers good insight into the numerous struggles and challenges that organizations face in trying provide their services and demonstrates how organizations may need help in unexpected ways.
On a given day, The Caroline House serves more than 100 women and children and the women and children that will be served by the Caroline House in the years to come will number in the thousands. The parking lot is crucial to make sure their language, educational and vocational training continues uninterrupted. The Sisters are so grateful to JPFF for our help.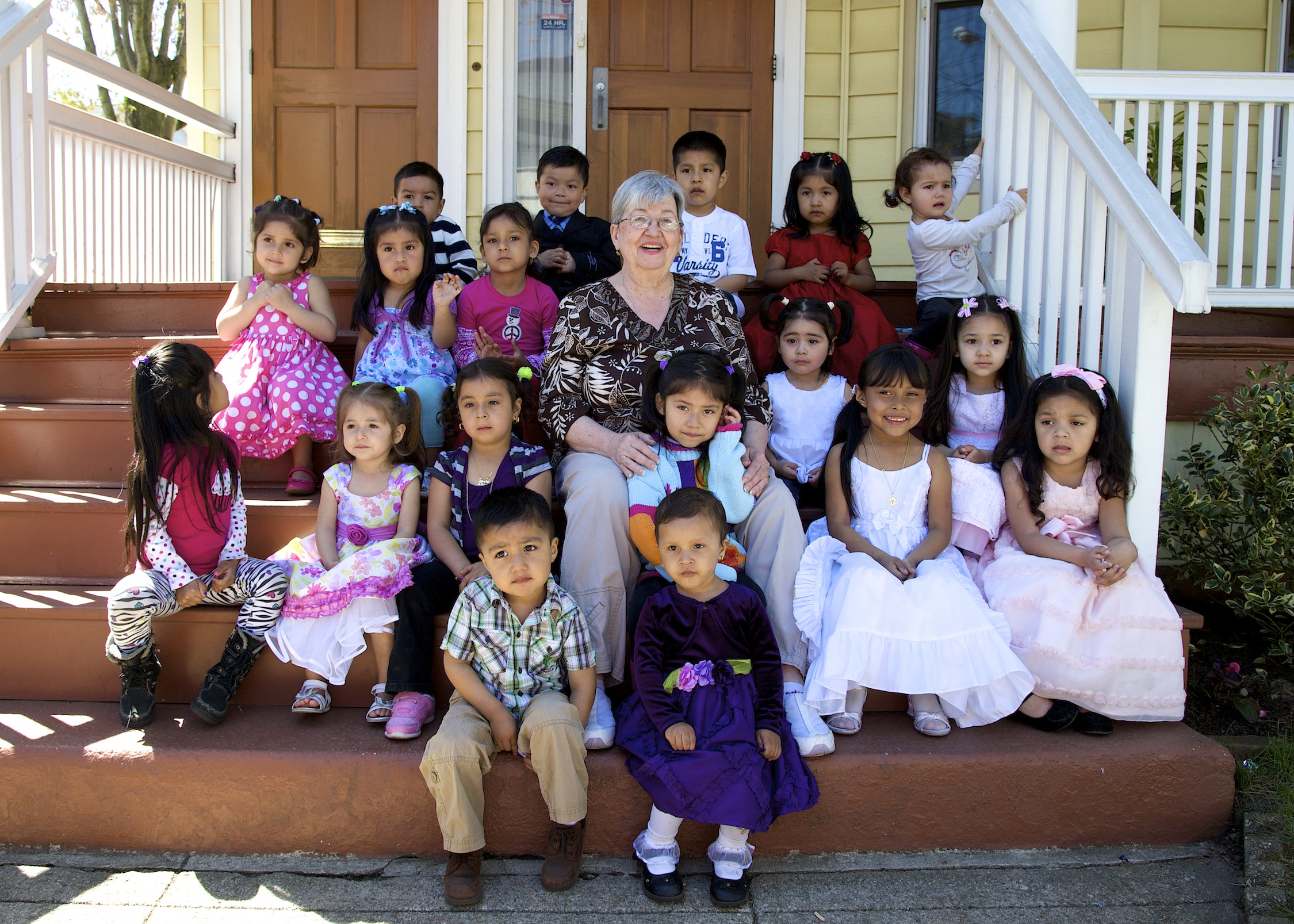 Mother's Day Celebration at The Caroline House
THOUGHTS OF JOHN
Thank you to Bob Baptist, JPFF board member and one of John's oldest and dearest friends, for writing the following piece about growing up with John and the Flanagan family. John and Bob met at Fairfield Prep where they became fast friends, and as adults Bob and John lived in the same town with their own families. Bob may arguably have the best repertoire of fun stories about their adventures and antics over the years. If you see Bob Baptist around town or at a sporting event, he will be happy to regale you with a story and you are guaranteed a belly laugh or two.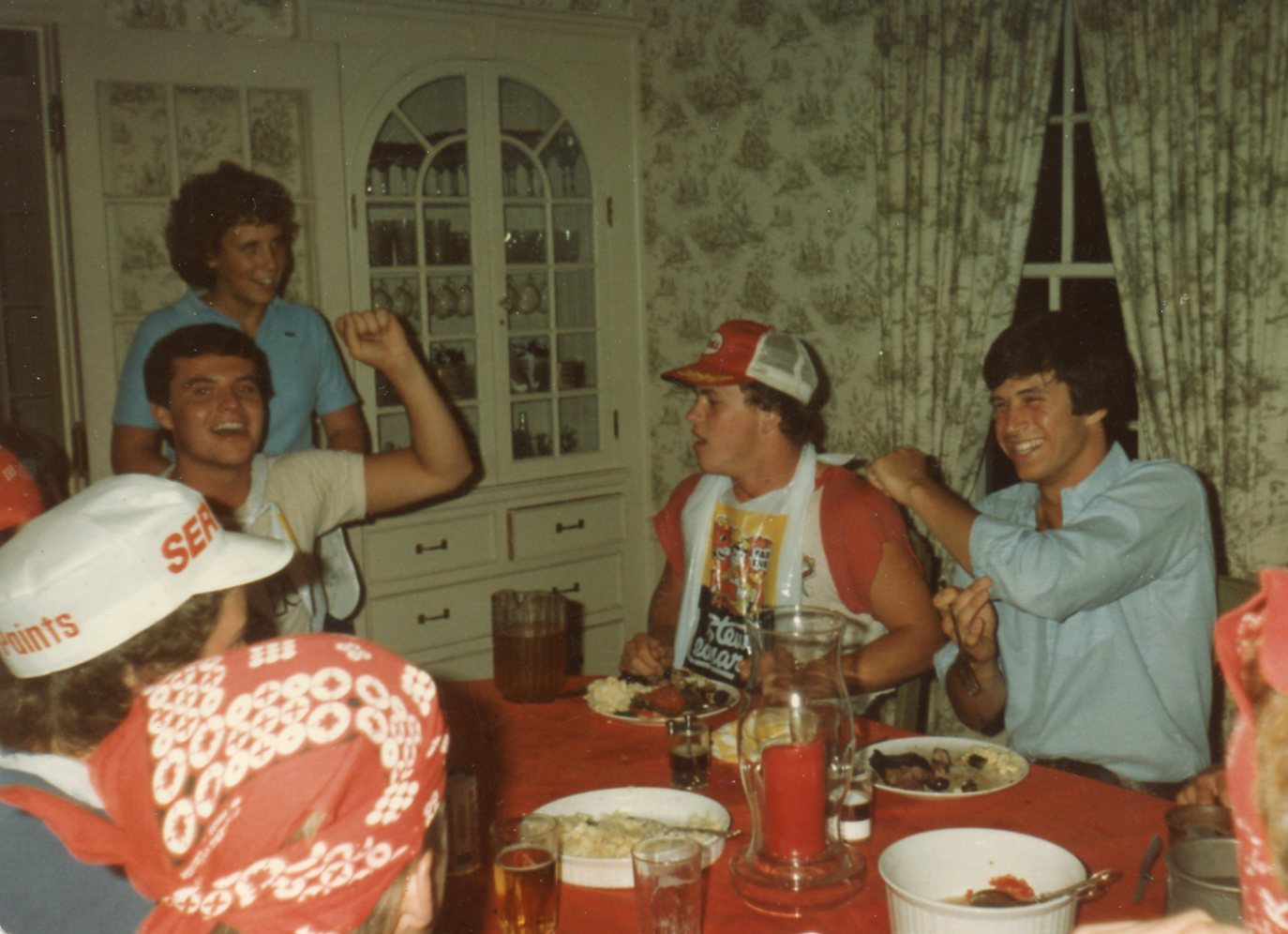 Summer Loster Dinner at 73 Inwood Road, 1981
73 Inwood Road
by Bob Baptist
73 Inwood Road is the home of Ann and Walter Flanagan. It is the address where John Flanagan grew up. It is also the place where hundreds of memories were made, and if you were lucky enough to make the turn into the long driveway, I'm certain you can recall more than a few.
When you became friends with John, you were getting more than a friendship with him, you were getting his entire family. A proposition that some might find intimidating but for those of us who welcomed the experience, found it extremely rewarding.
As in any new relationship there are sanctimonious pleasantries exchanged and everyone is polite. This phase was short-lived and completely ceremonial at the Flanagan house. If the Flanagans opened their door to you, you were family.
I believe I was inducted one night when I stopped over for dinner after basketball practice at Prep. The entire Flanagan clan was present and the normal dinner conversation of how people's day went ensued. Everyone took their turn and it eventually got to me. Before I could get started, Caitlin, who had loaded her spoon with mashed potatoes and peas, flung her spoon in my direction. It was from that moment on that I knew I was an honorary Flanagan.
A stop at the Flanagan's house meant playing hoops in the driveway with Matt and Walter, playing board games (Life) with Eileen, and conversations with Ann and the other girls in the kitchen. It meant always wearing you jacket inside because the furnace would only kick on about a dozen times a year and perhaps having a cold libation. There were so many get-togethers and parties and an occasional field trip like a late-night showing of the Rocky Horror Picture Show with the Owens. The stories of these times together are endless.
One thing I know for sure is John truly loved his family and wanted his friends to enjoy them as well. After four years at Prep, John and I went off to the University of Richmond and our time together there provided even more stories.
Not everyone is lucky enough to have a lifelong friend but I am. John is mine.
I never said goodbye to him in the hospital. I know I will see him again and he is still my voice of reason today. John chose to be thankful for the time he had here. I'm thankful for the time I had with him. And I know we are both thankful for the time we spent at 73 Inwood Road.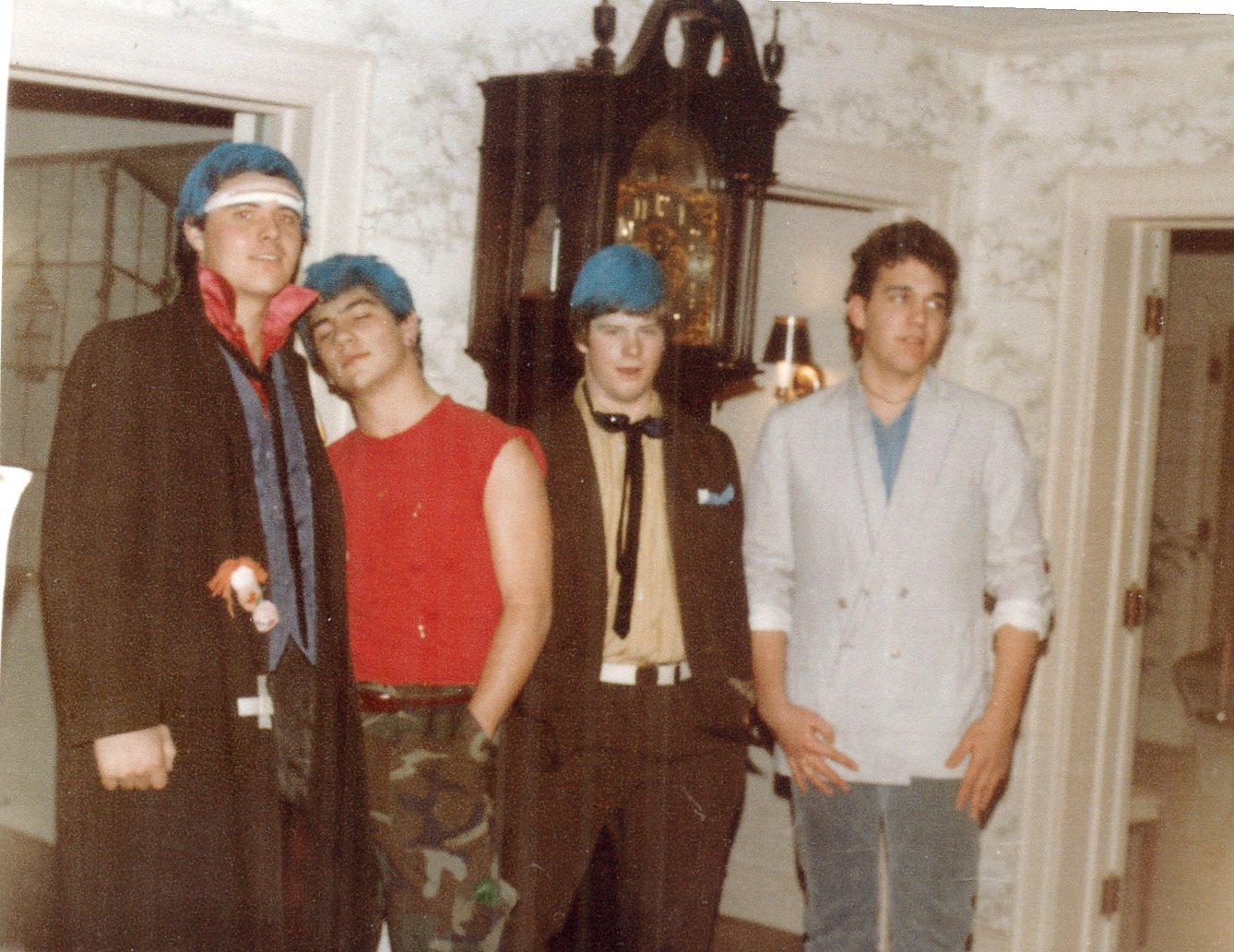 Heading out to Caroline Crawford's Punk Rock Party, 1982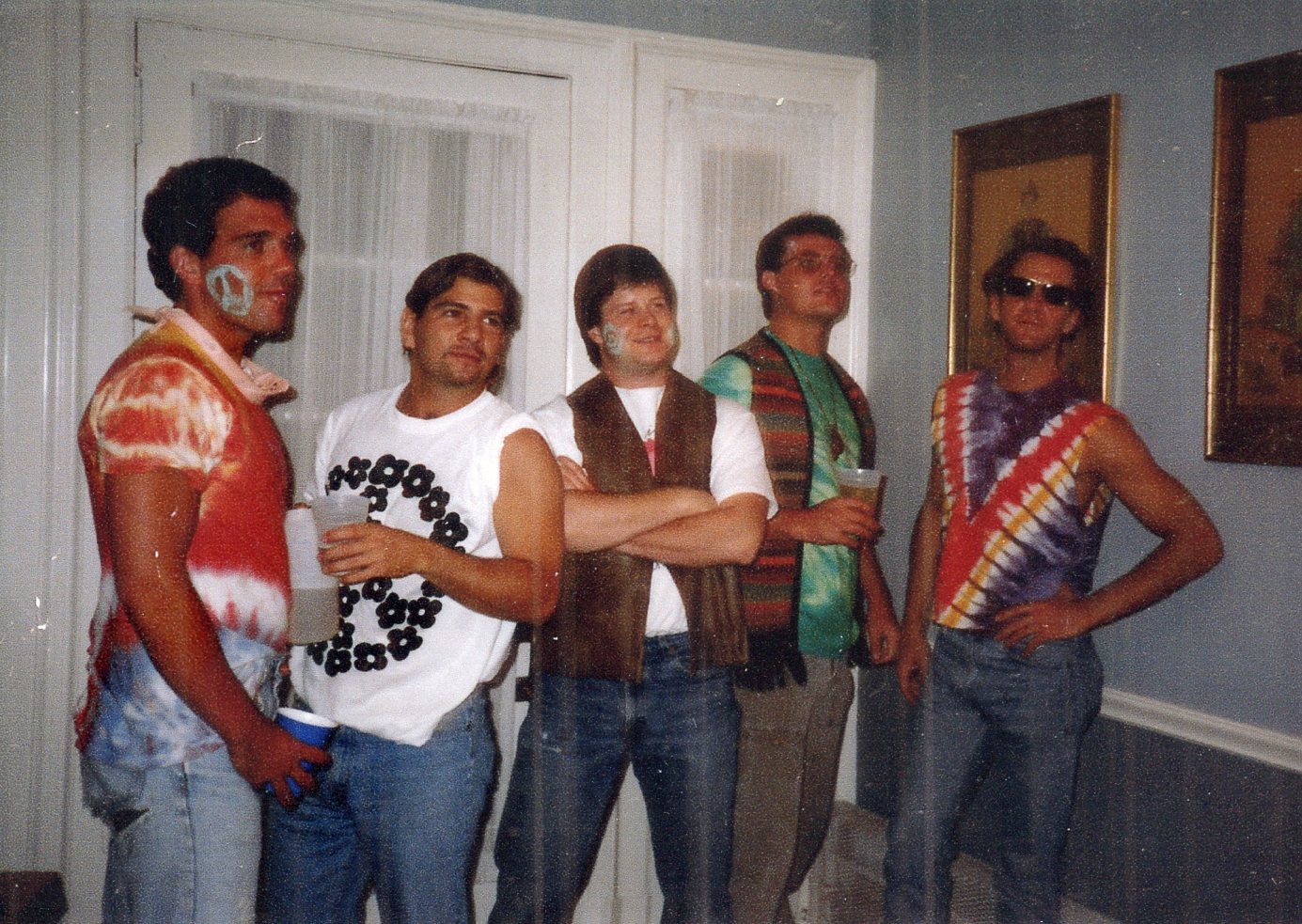 Caroline's 60's Party, 1983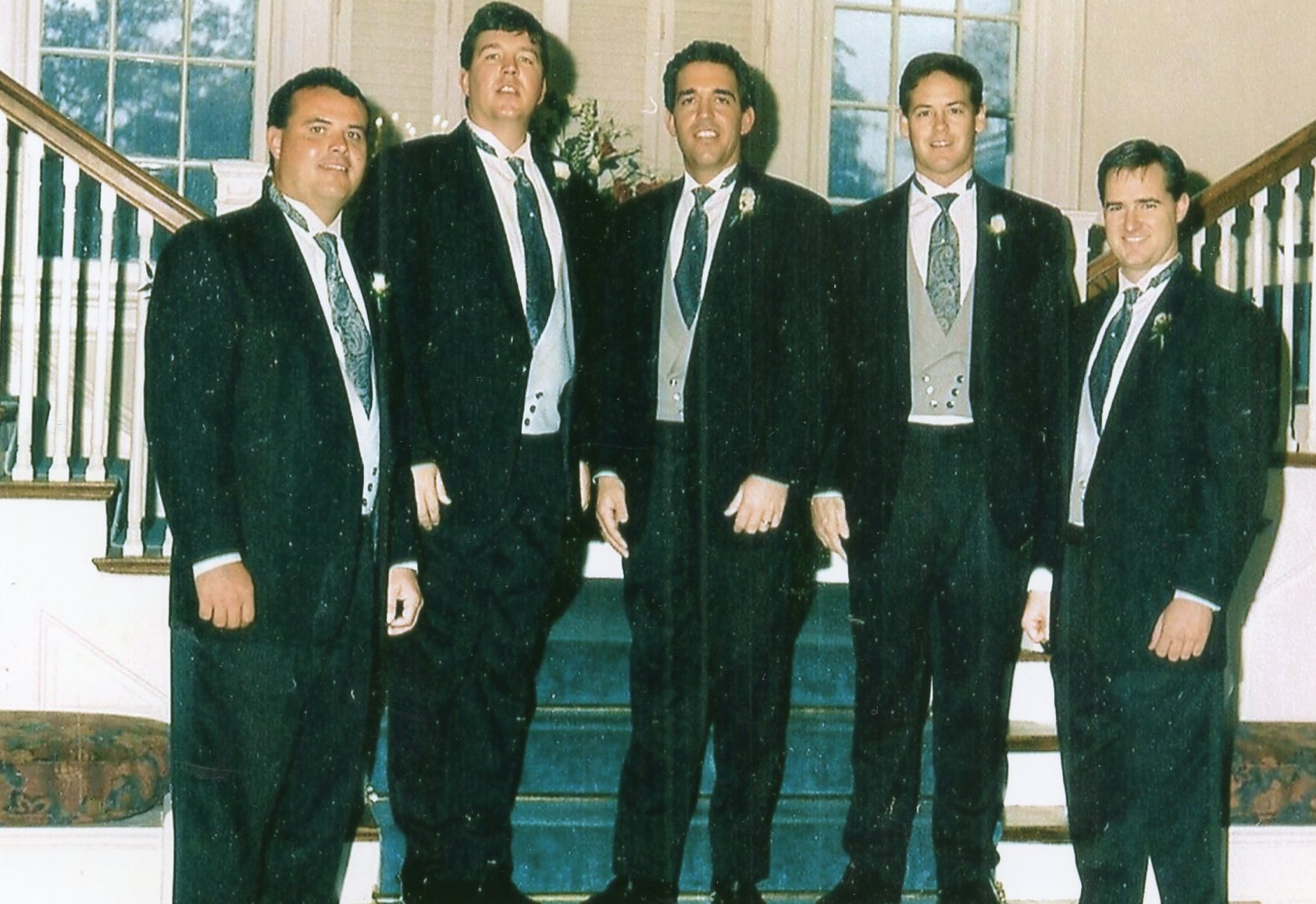 John's Wedding Day, Oct. 19, 1996
2012 FINANCIAL REPORT

JPFF Endowment as of year-end 2012 = $327,823
Total amount granted to charities since JPFF inception (2009-2012) = $56,330
2012 Fundraising Income = $70,174
2012 interest, dividend and capital gain income =$ 14,724
(All 2012 operating costs were covered by our investment income.)
2012 Operating Costs = $ 7,936
Our operating costs included web site hosting fees, credit card processing fees, P.O. box fee, accounting fees, event planning and fundraising costs, printing, postage and other minor administrative costs. All other operating costs, including legal work, graphic design, website design, bookkeeping and all managerial and administrative costs were donated. JPFF is an all-volunteer organization.
A special thank you to:
ICR, LLC for donating the infrastructure and management services to enable JPFF to keep our operating costs so low.

Bishop, Jackson, & Kelly, LLC for legal advisement.

Dif McGeough for website development. http://www.vdesignct.com
THANK YOU 2012 DONORS
The John Patrick Flanagan Foundation would like to thank the individuals, companies, and
foundations that supported our mission in 2012. Click here for a list of 2012 donors.
2013 News: United in Hope Scholarship Founded
In 2013, the Chad A. Jacobs Memorial Foundation and the John Patrick Flanagan Foundation jointly founded the United in Hope Scholarship for students who have lost a parent to cancer. Graduating high school seniors who attend school in Fairfield or Westport are eligible to apply. For more information about the United in Hope Scholarship,
visit our webpage.
Please support TEAM FLANAGAN in Fairfield 5K
& Half Marathon
June
22 &
23
Run with us or sponsor a runner!
To run with us
,
follow these two easy steps to joining Team Flanagan 2013:
Go to our event page

and sign up for our team.

Register online for the 5K or half marathon race at

www.fairfieldhalf.org.

Please email Team Captain Liz DiTrapano at liz.ditrapano@gmail.com

with any questions.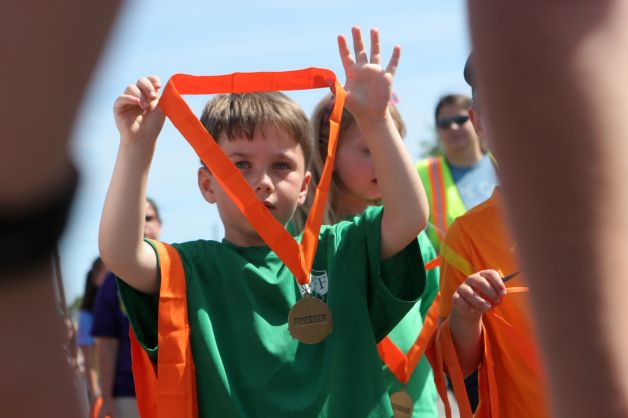 Jack Flanagan hands out medals at the Half Marathon Finish Line, 2012
About the John Patrick Flanagan Foundation
The John Patrick Flanagan Foundation was established in loving memory of John Patrick Flanagan who passed away from cancer on December 24, 2008 at the age of 44. JPFF's mission is to help vulnerable children and families by supporting charities that provide the direction, education and healthy environment that vulnerable children and families need to have the opportunity to reach their full potential.
To make a donation, please go to http://www.firstgiving.com/jpff or send a check to the John Patrick Flanagan Foundation, PO Box 818, Southport, CT 06890. JPFF is a 501(c)(3) tax-exempt organization Tax ID # 26-4783810.
###
Executive Board
Amanda Flanagan, Chairperson
Thomas M. Ryan, Asst. Chairperson
Bob Baptist, Treasurer
Maura Flanagan Almy, Secretary
Liz DiTrapano
Rob Ebrech
Michael Fox
H.T. Owens
Advisory Board
Kellie Baldyga
Father John Baran
Tim Bishop
Caroline Owens Crawford
Walter Flanagan
Brendon Frey
Anthony Jannotta
Jim O'Brien
John G. Phelan, Jr.
Christopher Riley
David Volpe
Donors
For a complete list of 2012 donors, please click here.